English National Ballet's Emerging Dancer: A Celebration
Celebrating 11 years of its Emerging Dancer competition, English National Ballet will stream a special event featuring a programme of classical ballet and new creations performed by previous winners. Recorded at the Company's east London home, the stream will be available to watch for free on YouTube and Ballet on Demand, ‪from 9 September, for 30 days.
Over the past decade the Emerging Dancer competition has developed from a small studio event to taking place in some of London's most prestigious theatres as well as being streamed to global audiences. English National Ballet has recognised the dedication and excellence of its artists through the competition, with six dancers selected by their peers every year to perform both classical and contemporary repertoire in front of a panel of industry judges and a live audience. A People's Choice winner is also announced as part of the proceedings. Whilst a reduction in live performance has not made it possible to select winners this year, this special celebratory event will bring the artistry and talent of previous winners to online audiences.

First Soloist James Streeter will produce Emerging Dancer as part of the Company's Dance Leaders of the Future programme, and has previously been part of Emerging Dancer as a dancer.
The programme for Emerging Dancer: A Celebration includes the recipients of the 2020 Emerging Dancer Award, Ivana Bueno, and People's Choice award, Victor Prigent performing an extract from La Sylphide. Winner of 2017's Emerging Dancer Award, Rina Kanehara, performs with 2017's People's Choice Award winner, Georgia Bould, and 2018's People's Choice Award winner, Alice Bellini, in a new work entitled Lilith's voice by Nikita Goile. Alison McWhinney and Junor Souza, who were joint winners of the Emerging Dancer Award in 2014, will perform a pas de deux from Liam Scarlett's No Man's Land. Mlindi Kulashe creates a new work for 2019's People's Choice Award winner, Rhys Antoni Yeomans, whilst Shiori Kase, who received the Emerging Dancer Award in 2011, will perform a pas de deux from Flames of Paris with 2018's winner, Daniel McCormick.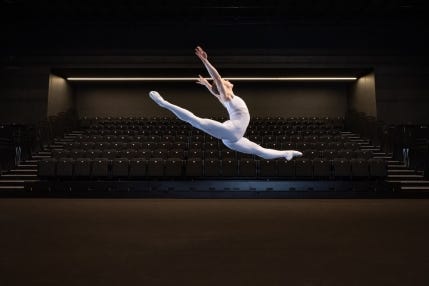 Image Credit: 2019 People's Choice winner Rhys Antoni Yeomans in English National Ballet's Holloway Production Studio where Emerging Dancer: A Celebration will be recorded © Photography by ASH