Breakin' Convention 2021
Sadler's Wells Breakin' Convention, the festival of hip hop dance theatre, returns for its 18th year and has announced its line-up for this year's socially distanced programme, curated by hip hop theatre pioneer and Sadler's Wells Associate Artist Jonzi D. Running from Thursday 1 - Sunday 4 July at London's Sadler's Wells, this year's event follows Breakin' Convention's mini festival Social DisDancing in December 2020, and is its first live event since lockdown.

Performances will come from:

AWA
Made up of young dancers with different special needs and disabilities, AWA (Atypical with Attitude) presents a piece acknowledging the power of unity. Blindfolded dancers express feelings of loss and isolation whilst finding companionship and commonality.
Bagsy
Waacking artist Bagsy takes inspiration from his own identity, examining masculinity, expectations and Yoruba's god of thunder Shango, creating an intimate exploration of his journey through the form of waacking.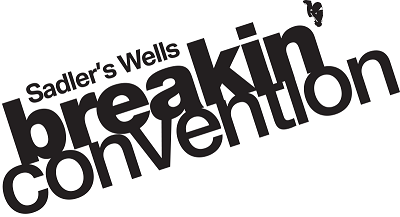 Gemma Hoddy
Veteran of the award-winning Boy Blue, Gemma Hoddy presents a quartet of women performing a blend of iconic jazz dance shapes, punctuated by a furious popping technique. This pays homage to the classic generation of musical theatre and jazz samples.

Patience J
Patience J brings energy and attitude with a celebratory work exploring modern Afro dance forms from the African diaspora, including n'dombolo and azonto.

Spoken Movement
The work uses popping and tutting to illustrate a psychological duet between artistic director Kwame Asafo-Adjei and dancer Catrina Nisbett which explores the religious and cultural taboos in a Ghanaian family.

W.A.R
W.A.R (We Ain't Regular) brings a world premiere performance. The company appeared alongside rap artist Stormzy for his performance of Shut Up at Glastonbury 2020.

As well as dance crews and soloists, the 2021 programme features films from Breakin' Convention's latest initiatives Power to the Pixel and Next Day Delivery - a collaboration between choreographers and writers.